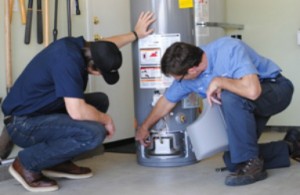 A water heater that isn't working isn't doing you any favors. Luckily, there are common gas and electric hot water heater problems that can easily be diagnosed and fixed without leaving you broke. Here are some water heater problems fixed by Cerritos plumbers every day.
Gas Water Heater Problems
When the hot water isn't working and you have a gas water heater, start by checking the pilot light. Sometimes the pilot light goes out and needs to be relit. This is a quick and easy fix.
Another issue that affects gas water heaters is a broken thermocouple. This is a large concern that should be addressed by a licensed plumber. Homeowners aren't advised to handle this repair.
Caution: If you think the heater is leaking, turn off the appliance and leave the home before calling a plumber. You don't want to risk an explosion.
Electric Hot Water Heater Problems
Electric-powered hot water heaters do not have pilot lights. So, if your water heater isn't turning on, check the circuit breaker. Something may have tripped the switch.
Damaged burners are also another reason for a water heater to stop heating well. Burners are delicate parts of the hot water heater that can be damaged from sediment buildup. Homes with hard water are at a greater risk of developing problems, but all homeowners should drain their water heaters routinely to prevent sediment from collecting and impeding burner operation.
Call Cerritos ASAP Plumbing & Drain for Affordable Hot Water Heater Repair
Don't put off hot water heater repair. Get the repairs you need now to avoid untimely replacement. Cerritos ASAP Plumbing & Drain is a top-rated, local plumber providing 24/7 gas and electric hot water heater repair in Cerritos. We offer affordable, flat-rate pricing, free estimates, and promise 100% customer satisfaction.